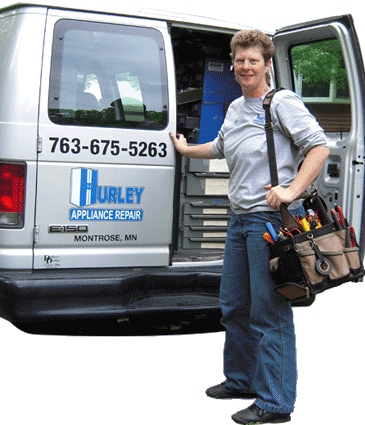 Call Hurley Appliance Repair at the first sign of trouble.
Laundry room appliances and kitchen appliances are key control centers of a home — until the breakdown is fixed, your family's life is turned upside down.
In the words of one customer:
"We knew the stove was getting fussy. We kept saying, 'it's taking too long for the oven to come up to temperature,' 'the burner won't light,' 'one of the burners doesn't work at all'…. But then on Christmas eve, the oven finally quit. And we were having 22 people for dinner!!! Thankfully, Jane had it fixed within ½ hour and dinner was served on time. Hurley Appliance really did save Christmas that year."
— Reneé
Don't wait until you're in a panic. Call at the first sign of trouble.
Symptoms of trouble – Gas/Electric Dryers:
• There's no heat
• Drying takes too long
• Clothes come out damp
• Dryer doesn't turn on
• Dryer gets noisy
• Drum doesn't turn
Typical causes of dryer problems:
• Defective switch or Thermal fuse
• Broken or clogged blower/venting
• Bad thermostat, sensors or burned out igniter
• Worn or broken belt/idler pulley
• Failed heating element
• Burned out motor or bearings
_______________________________
Symptoms of trouble – Gas Stoves:
• Burners won't light
• Oven won't bake
• Broiler not working
• Oven too hot or not hot enough
• Flame height too high
• Flame won't get low enough
Typical causes of gas range problems:
• Bake or broiler igniter
• Needs calibration
• On pilotless stoves, spark igniter or switch may be out
• Defective thermostat, switch, gas safety valve
_______________________________
Symptoms of trouble – Electric Ranges:
• Top burner not working at all/won't adjust
• Element doesn't work on all settings
• Won't go into cleaning mode
• Oven won't bake
• Broiler not working
Typical causes of electric range problems:
• Burned out receptacle and/or element
• Bad switch
• Defective thermostat
• Wiring or power cord problems
_______________________________
Symptoms of trouble – Washing Machines:
• Leaking from under the machine
• Unpleasant odor
• Agitator doesn't work
• Water won't drain out of tub
• Doesn't spin dry
• Goes off balance when spin drying
• Excess vibration or noise
Typical causes of washer problems:
• Clogged or failed water pump
• Bad lid switch
• Motor
• Water inlet valve defect
• Deteriorated or broken hoses, drive belts, coupler or pulleys
• Water level control switch
• Bad timers or other electrical controls
_______________________________
Symptoms of trouble – Refrigerators:
• Not cold enough/too cold
• Freezer OK but fresh food side not working
• Icemaker doesn't work
• Water leaking in refrigerator
• Noisy
Typical causes of Refrigerator problems:
• Coils under unit need cleaning
• Defrost problem
• Compressor/Relay inoperable
• Controls out of adjustment
• Icemaker/water valve failed
• Filter needs to be changed
• Fan motor has failed
_______________________________
Symptoms of trouble – Dish Washers:
• Dishes not clean
• Residue on dishes
• Dishes not dry
• Leaks
• Noisy
Typical causes of Dish Washer problems:
• Water valve clogged
• Too much soap used
• Heater inoperable
• Rinse agent out
• Hard water/softener salt
• Items in sump/impeller