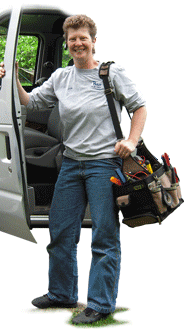 Call Today!
Hurley Appliance Repair
763-675-5263
Fast, Fair, Dependable
Major Appliances Repair Specialist
Replace or Repair?
Before you decide,
get the facts.
Call Hurley Appliance Repair before you toss out your stove, washer, dryer or fridge. Be smart with your money!
•
Save cash!
Repairing appliances generally costs
only a fraction of buying new.
•
Save the landfills!
Don't send your appliances to
the junk heap if they can be fixed.
•
Avoid more costly repairs
. Keep the range, washer, dryer and fridge in top condition with
timely preventive maintenance.
•
Save energy
, water and frustration by calling at the first sign of trouble.
•
Avoid catastrophic failures
that can result in insurance claims.
Hurley Appliance will provide repair cost estimates and make an honest recommendation as to whether the appliance is suitable for repair.
We service most Major Brands of kitchen and laundry appliances including: GE, Whirlpool, Maytag, KitchenAid, Bosch, Amana, Hotpoint, Asko, Magic Chef, Dacor, Frigidaire, Jenn-Air, Kenmore, LG, Sears, Thermador, Admiral, Tappan, Westinghouse, Gibson, Roper, and others.
______________________________________
"Hurley Appliance is very knowledgeable, reliable and trustworthy. (Jane) comes when she says she will, answers all my questions and is even willing to help make recommendations when it's time to replace my appliances. I would recommend her to anyone and I do!"
— Lisa F